Our Story
Cape Fear Riverboats, Inc. began in 1987 through the passion of Captain Carl Marshburn, boat captain, businessman, and strong advocate for tourism and history. Long before Wilmington was named one of TripAdvisor's 'Top Destinations on the Rise,' Capt. Carl envisioned the downtown Wilmington historic district as a major tourist attraction. He knew people would enjoy water views of Wilmington coupled with rich narration highlighting the area's history, legends, and charm.
"I love to entertain people and this seemed like something good for Wilmington," he said. "I saw the need for family-friendly, fun riverboat cruises departing from downtown on our popular river that would not only be a great adventure for people of all ages, but also to accurately interpret the region's nautical history, natural beauty and the unique river ecology."
"Captain Carl Marshburn is truly a tourism leader", states Kim Hufham, past president of North Carolina Travel Industry Association. "Since the early days of the Convention and Visitors Bureau, he has been a strong supporter and advocate of local and state tourism. It is due, in part, to Captain Carl's efforts that Wilmington's historic district has become such a popular and thriving tourist attraction."
Our current tour boats, Henrietta and the Captain J.N. Maffitt, run both daytime and evening cruises on the Cape Fear. We encourage you to try our one of our exclusive nature tours to the Black River. Narrated by local ecologist Andy Wood, our twice-monthly nature tours (April-October) take you to some of the oldest forest in North America. Individual tickets can be purchased for friends and families, plus, group charter opportunities also are available for parties up to 48.
Our Previous Boats
From 2000 – 2015, we proudly sailed the HENRIETTA III on the Cape Fear River. HENRIETTA III is named for the original HENRIETTA, a trailblazer for steamboats on the Cape Fear River, which enjoyed a long and financially successful life. James Seawell at his plantation at what is now Fayetteville, North Carolina built her in 1817-1818. Seawell named the boat for his daughter, Henrietta. HENRIETTA was launched April 30, 1818 under the command of Captain Charles Taws. Her first run from Fayetteville to Wilmington was in July 1818. She ran the river between Wilmington and Fayetteville for forty years. When she was retired from service, she had run at least one and one-half million miles on the Cape Fear River and had earned no less than 1.5 million dollars for her owners.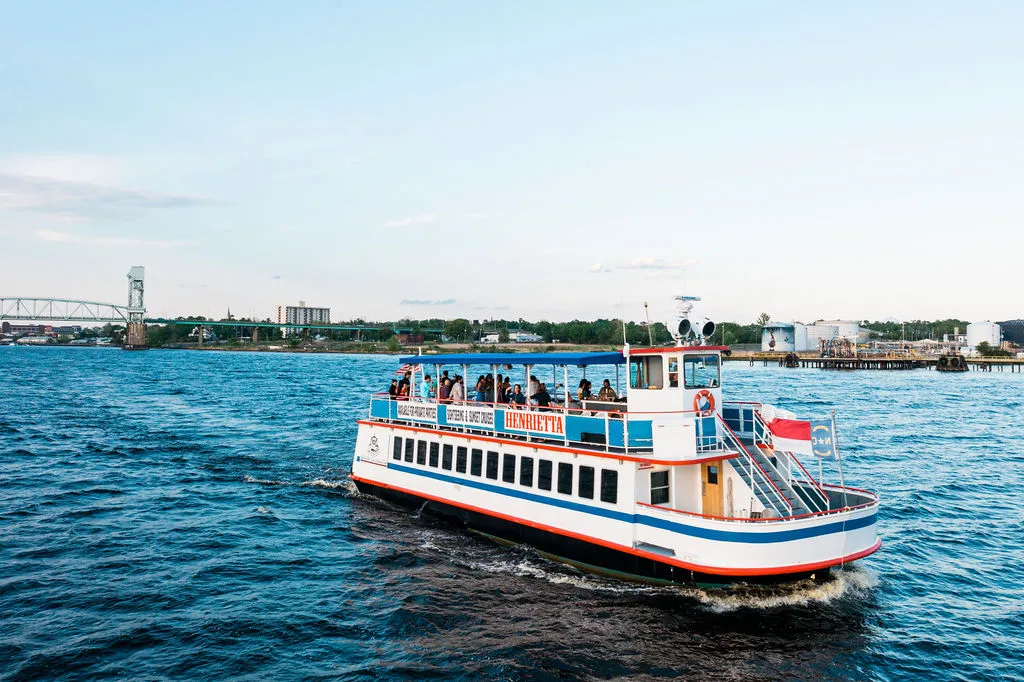 Under the ownership of Cape Fear Riverboats, Inc., construction of HENRIETTA, North Carolina's only true sternwheel riverboat, began in mid-September 1987 in Greenville, Mississippi. She debuted in Wilmington on April 2, 1988 – almost exactly 170 years after HENRIETTA debuted into Wilmington. HENRIETTA operated as a sightseeing and dinner cruise boat until she was sold on March 23, 2015. She is presently in upstate New York and functions as a dinner riverboat. Today, Cape Fear Riverboats currently operates a fantastic 2 deck sightseeing and charter vessel, also named the Henrietta!  We offer daily sightseeing river cruises, sunset cruises, black river nature cruises and Private Charters!